Resources
NERACOOS Annual Impact Reports
           

   

   
---
NERACOOS Communications
Download high-res versions of our "Buoys from Head to Toe" infographic!
Download high-res versions of the "NERACOOS Helps Answer Vital Questions" Infographic!
Map of NERACOOS System Operators (Click to see high-res version)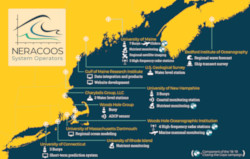 NERACOOS: One-Pager (Coming soon!)
NERACOOS Annual Meetings
NERACOOS Board of Directors and Governance
Strategic Planning
NERACOOS Travel Documents and Resources
NERACOOS Grants
NERACOOS Data Management
NERACOOS Financial Documents
Other Resources
Other Regional Observing Systems
May 6-7, 2019 Biological Observations Workshop co-hosted by NROC, MBON, ATN & OTF.
Clicking the link will start a download of a zipped PDF of the presentation.  
December 10, 2015 NERACOOS Annual Meeting
December 4, 2014 NERACOOS Annual Meeting
December 5, 2013 NERACOOS Annual Meeting
December 5, 2012 NERACOOS Annual Meeting
September 26, 2012 NERACOOS/NECODP Data Management Workshop
Real-time ocean and weather conditions delivered by NERACOOS are a critical resource for commercial mariners who captain large vessels in our region. This new IOOS (Integrated Ocean Observing System) video features Captain David Gelinas of the Penobscot Bay River and Pilots Association, who describes how he and other mariners routinely use and rely on NOAA and NERACOOS observations and forecasts to improve the safety and efficiency of their critical operations. 
"We would be at a huge disadvantage without the IOOS system. Every once and a while they talk about pulling one or more of those buoys and it really sets off alarm bells in our organization because literally on a daily basis we rely on that information to make sound decisions."
- Capt. David Gelinas, Penobscot River and Bay Pilot Association